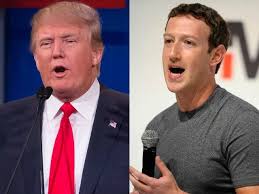 Donald Trump wants to deport all undocumented immigrants in the US. He's said it many times. That seems to be his platform. He says Mexicans love him because he employs so many.
Mark Zuckerberg employs a lot of immigrants, not necessarily Mexicans, specifically, but immigrants just the same. Mark wants to help immigrants get access to legal status so they can continue to contribute to society.
One Billionaire wants to help immigrants, the other wants to vilify them.
Mark was recently quoted in Inc magazine as saying, "[D]eporting 11.5 million people would cost U.S. taxpayers $400 to $600 billion dollars, and would take at least 20 years to complete. Even worse, this mass deportation would reduce our GDP by $1.7 trillion–over 5 percent. Many industries would be hit hard, others–like agriculture, construction and hospitality–would be devastated."
These numbers would suggest that Donald Trump doesn't particularly care about our economy. Either that, or he really hasn't studied the problem at all, and like all good reality TV personalities, he's just running  for the fame and publicity.
Mark Zuckerberg is younger, wealthier and obviously smarter. Too bad he's not running for President.