Is Obama similar to Abe Lincoln?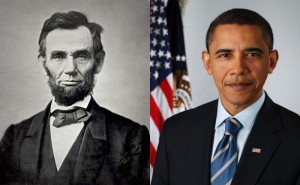 If Obama comes out with an executive order to help a marginalized and highly oppressed portion of our society gain legal status to live in the US, then, yes, he will be.
On January 1, 1863 Abraham Lincoln issued an executive order to free Slaves in Confederate held lands. It did not free all the slaves.  This executive order was issued without Congress voting on it, and gave slaves the right to create their own destinies, free from the fear that they could be captured and returned to previous owners.
The people who wanted the white man to always have dominion over the inferior black man, were very hateful and vocal about their anger over this issue. So much so that Lincoln would later be killed by one such person.
This is very similar to what Obama will be introducing in the next few days. His executive order is expected to give some 5 million undocumented immigrants (not all of them) permission to live within our borders without fear of being captured and sent back to their former country.
Let us also not forget that Abe Lincoln was a Republican, which should make the loud, hateful Republicans pause, but of course, it does not. Anything that Barack Obama wants, these guys want the opposite–even if it's in their own best interest. Their hate can  be read in every immigration article's comment section online.
So let's hope our  Conservative lawmakers and their supporters don't get their panties in a bunch over what will inevitably be another step in our country's racial evolution. History truly does repeat itself. This has already happened, and it is happening again.
Get over it.